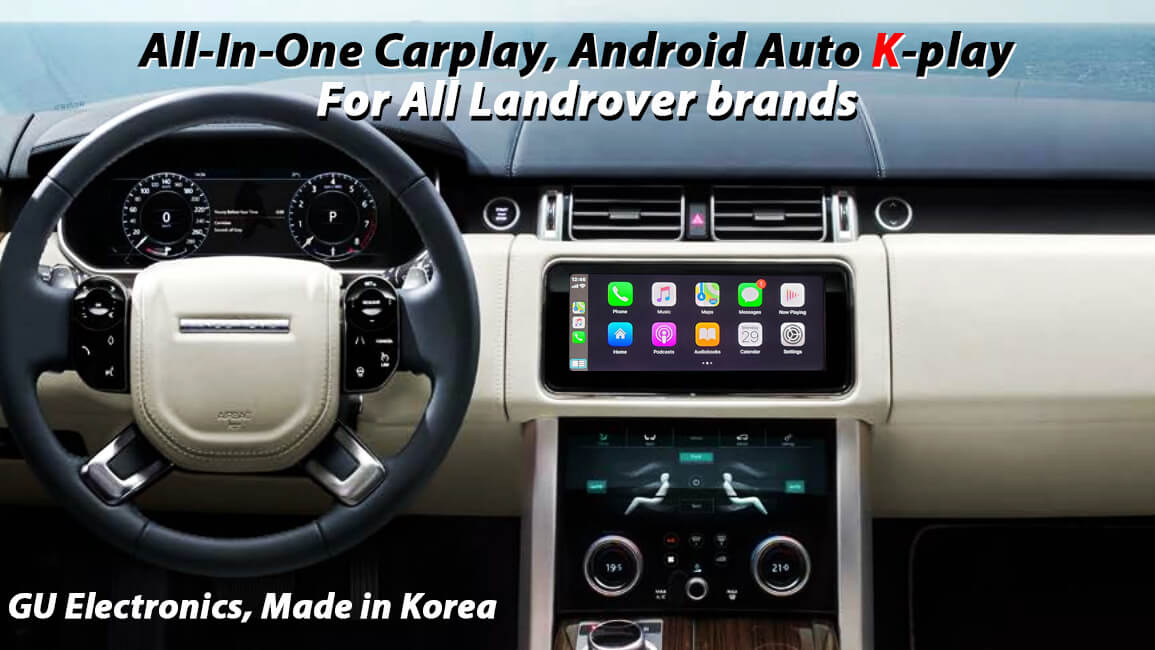 Wireless Carplay/Android Auto K-Play & Interface all-in-one device, VES 2014 for all Landrover brands
1) No interface, simple only Kplay(Carplay/Android Auto compatible device) for Land Rover brands
Original K-play ( Apple Carplay or Google Android auto compatible device) needs car video interfaces as an extra for connecting your original/OEM car display, but GU electronics now represents All-in-one simply device for you easily to connect to your Landrover car modes GU team is supporting. so literally you just can install and setup only one device, which is this integrated K-Play.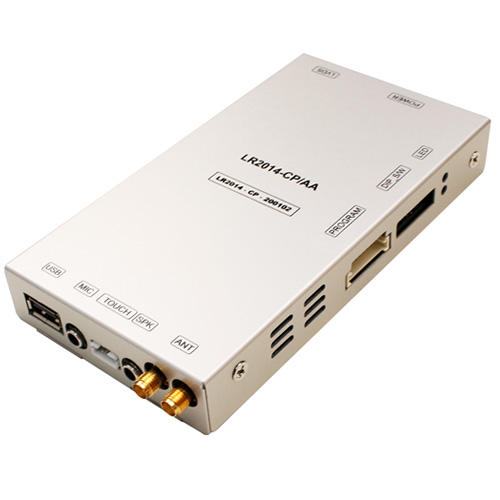 This is the integrated K-Play with car video interface for Discovery4 (D4), RangeRover, RangeRover sports, Evoque, FreeLander2.
Please look at how to install into your car original screen and what kinds of connections are supported.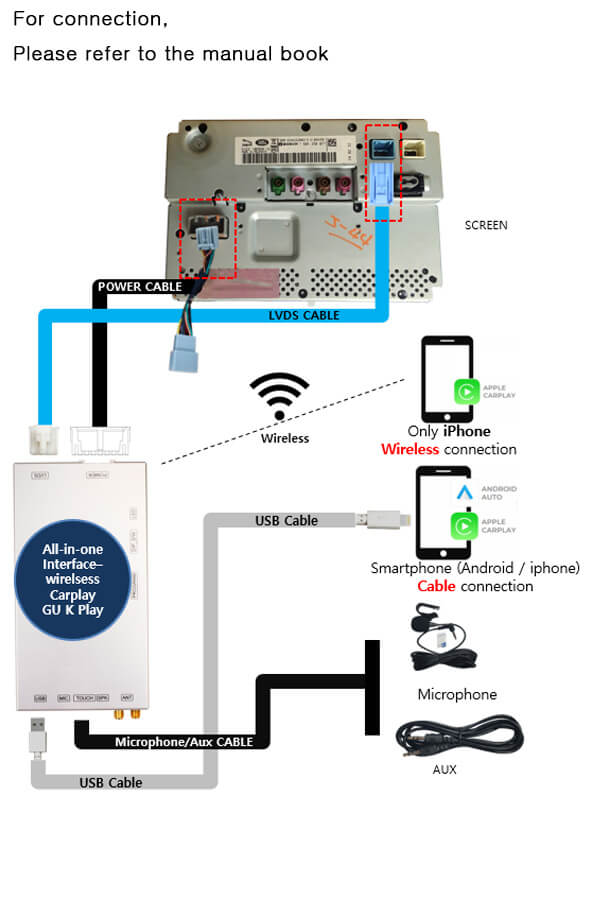 Very simple to install and connect to your vehicle.
For more detailed information, please click the product information page.

2) What kind of Carplay/Android auto adaptor device will be the best for me or your shop?
There are many ways to install and setup the Carplay / Android auto. so, here I'd like to introduce the main three ways for you and Landrover brand users. 
① Car video interface / Carplay & Android auto set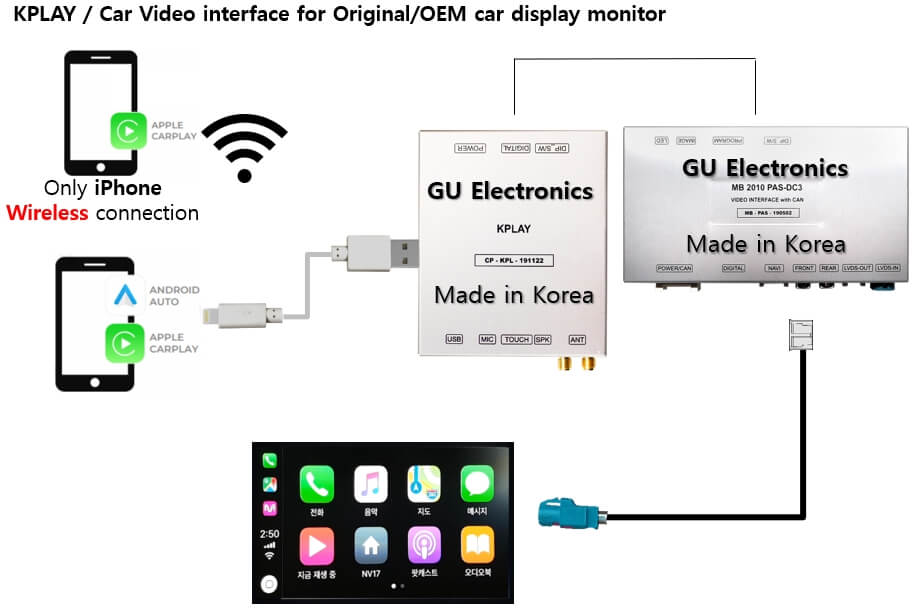 This is the only way to install and be connected to your original/OEM display monitor so it can be very closer to maintain your car as original and luxuries of your Mercedes. but you need someone or knowledge to set up this device into your car.
② Extra display integrated Carplay & Android auto device
Sony, is one leading manufacture and brand, selling this type. It is quite good for such a big brand maker to sell this item but this one has a big issue. As an extra integrated display device, this device pushes you to choose how to put this one in your car. I mean you should hang on car front glass which is over the dashboard or replace your original/OEM display monitor with this model when the display size is matched. so if you really want your car stay in the noble and luxury vehicle
③ Simple USB type dongle device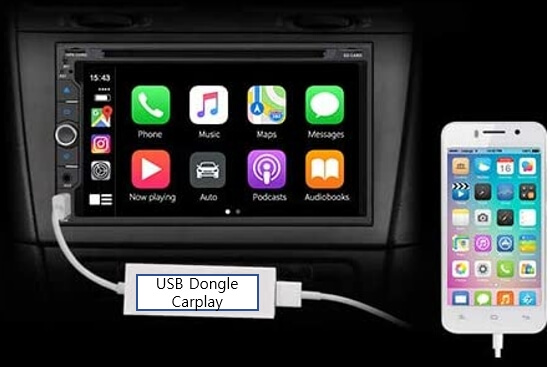 It is the cheapest and simplest method to insert your smartphone link and sync function into your car.  Many Chinese manufactures and brands have been released into the aftermarket. At first glance, it may look quite a good choice. However, please remember "there is no such thing as a free lunch. As much as it is cheap, the compatibleness may not meet your wishing performance in your brain.
3) Why integrate wireless K-play is the best option
As you see and read, a variety of choices for the device that enable the use of Carplay application or Android auto through your phone is here. Among these choices, I'd like to recommend you K-Play. It is a highly reliable and compatible device.  K-Play is manufactured in Korea, GU Electronics. It supports Apple Carplay mode(wireless / USB wired connection) and Google Android auto (USB wired connection).  Also, this is the device to use your OEM / original monitor display in your vehicle so the car indoor interior will be as same as the original look and you can get better satisfaction than you think.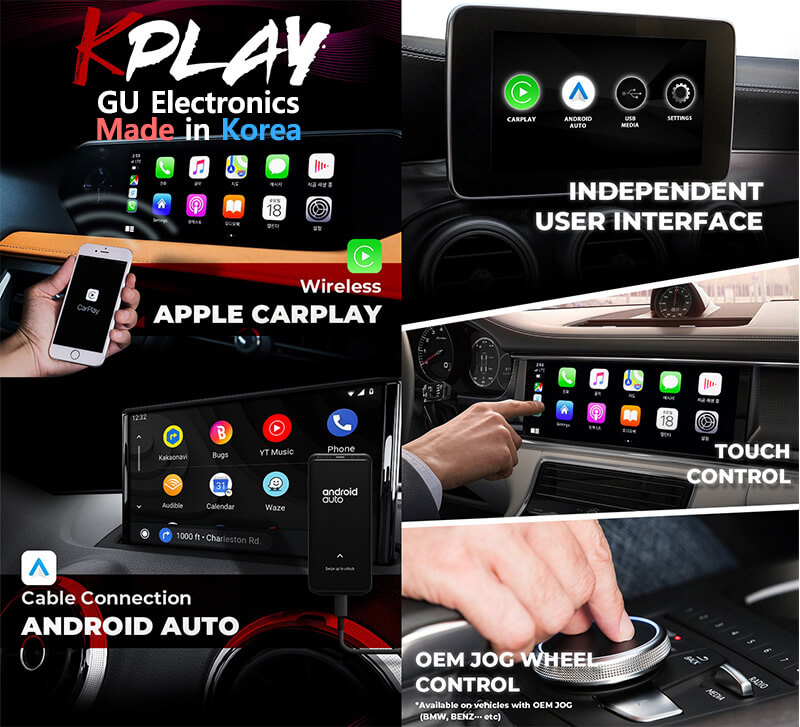 4) what model is supported for Landrover brands
Please have a look at the table, here are supported models and features.
※ Common Installation & Feature
LVDS : Plug&Play
POWER : Plug&Play
Switching : Movable NAV button
※ Support model s
Discovery4 (D4),
RangeRover, RangeRover sports,
Evoque,
FreeLander2,
Range Rover Vogue(2014~),
Land Rover Discovery Sports 2.0D SE (2015),
Jaguar XE 8″ (2015), Jaguar XF (2009~2015), Jaguar XJ 8″ (2011~), Jaguar XJL
for further more questions, please contact market@guelec.co.kr
Thank you.